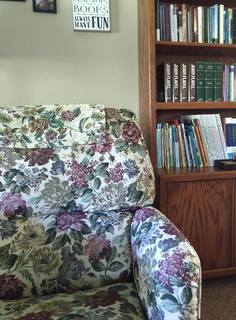 Welcome to Christ's by Grace, my home on the web. If you walked into my physical home, you would notice a couple of things. First, it is furnished in what might be called Late Century Consignment Store. Second, there are lots of books. We have fiction and non-fiction, books from every age, for every age.

But the book that we consult daily — and have for many years — is the Bible. It is not like any other book. The Bible, alone, is a must read. It enables us to take the information from all those other books and contextualize it for service in God's kingdom.

So, in welcoming you to Christ's by Grace, I want to make it clear that the Bible is the source from which its content flows. Like the consignment store furnishings in my home, the posts may borrow from memories, old and new. However, my primary aim is that the Scriptures would bring clarity, joy, and comfort as they unfold the amazing truths of the gospel. "For the word of the cross is folly to those who are perishing, but to us who are being saved it is the power of God" (1 Cor. 1:18).

Please browse my posts and share them with your friends. If you would like to be notified when new posts are added, you can subscribe using the form under the heading "Sign Up." Thank you for visiting Christ's by Grace!
They don't get clicks, likes, or retweets on social media. They don't dominate the news or gather a great following. In earthly spheres of power and influence they are insignificant; however, in Christ's kingdom they are sons and daughters of God. Jesus called them blessed. They are the peacemakers. "Blessed are the peacemakers for they…
In celebration of Good Friday, I offer the following poem that was inspired by Psalm 22
Do I believe in miracles? The question is not merely speculative. Heaven and hell are at stake. Jesus forces this question upon me with his pronouncement, "Blessed are the pure in heart, for they shall see God" (Matt. 5:8). This beatitude arouses either pure despair or pure hope. It all depends on whether I believe…