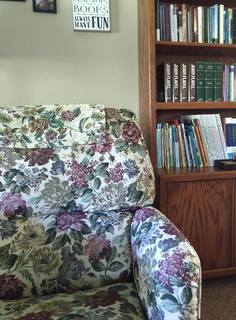 Welcome to Christ's by Grace, my home on the web. If you walked into my physical home, you would notice a couple of things. First, it is furnished in what might be called Late Century Consignment Store. Second, there are lots of books. We have fiction and non-fiction, books from every age, for every age.

But the book that we consult daily — and have for many years — is the Bible. It is not like any other book. The Bible, alone, is a must read. It enables us to take the information from all those other books and contextualize it for service in God's kingdom.

So, in welcoming you to Christ's by Grace, I want to make it clear that the Bible is the source from which its content flows. Like the consignment store furnishings in my home, the posts may borrow from memories, old and new. However, my primary aim is that the Scriptures would bring clarity, joy, and comfort as they unfold the amazing truths of the gospel. "For the word of the cross is folly to those who are perishing, but to us who are being saved it is the power of God" (1 Cor. 1:18).

Please browse my posts and share them with your friends. If you would like to be notified when new posts are added, you can subscribe using the form under the heading "Sign Up." Thank you for visiting Christ's by Grace!
Fifteen seconds of fame. That's the siren song of the media. Nevertheless, pursuing it often results in looping ten-second sound bites of infamy. It highlights the misunderstanding that can result when the context of our words is left on someone's cutting room floor. However, in the case of Habakkuk, a truncated quote has led to…
The singular event in history revealing the evil in men's hearts, is the crucifixion of Jesus Christ, the perfectly righteous Son of God. Yet, that same evil is at work in every generation as is clear from Jesus' final declaration in the beatitudes. Those described in the previous beatitudes as humble, mourning over sin, meek,…
In the early centuries, three simple words meant the difference between life and death; yet, Christians clung to another three words and gained eternal life.